Today I'm excited to be participating in the HOLIDAY GIFT EXCHANGE BOOK LOVERS BLOG HOP hosted by author S.K. Wills. For my part of the exchange, I'm giving away the deleted first chapter of LIMONCELLO YELLOW, the first book in my Franki Amato mystery series, and some delicious Limoncello drink recipes.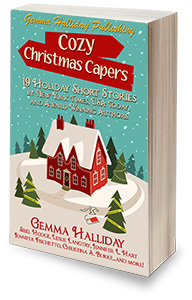 If you want to know what Franki has been up to since LIMONCELLO YELLOW, check out her investigation at a Louisiana plantation in PROSECCO PINK and her Houston hunt for her missing grandma in "ROSOLIO RED," my Christmas mystery featured in Gemma Halliday's COZY CHRISTMAS CAPERS. It's available only until January 31st, so don't wait to get your copy!
Amazon: http://amzn.to/124FjYo
Barnes & Noble: http://bit.ly/1twEMp6
Kobo: http://bit.ly/1qbOlb1
Smashwords: http://bit.ly/1CSuGFQ
Now, to get my free giveaway, please leave a comment telling me your favorite holiday beverage (alcoholic or non) and then email me at traci (AT) traciandrighetti (DOT) com.
But don't stop there: Enter S.K.'s Rafflecopter giveaway to win a $100 Amazon gift card! S.K.'s Rafflecopter giveaway
Thanks for participating in the blog hop—be sure to tell your friends to stop by too. And don't forget to check the schedule tomorrow for links to the other blogs: http://bit.ly/holiday-blog-hop!
Buone feste (Happy Holidays)!