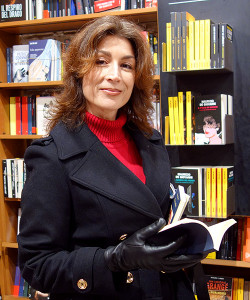 Traci Andrighetti is the USA TODAY bestselling author of the Franki Amato mysteries and the Danger Cove Hair Salon mysteries. Traci wrote her first mystery in her bedroom closet with her cousin Louisa when they were just twelve years old (it was called The Message in the Driftwood, à la Nancy Drew). But then she abandoned writing completely to pursue other interests, like parties, makeup, and boys.
When she went to college, Traci fell in love with foreign language and studied Spanish, French, Latin and Italian (her hands-down favorite). Thanks to her passion for Italian, she became an award-winning literary translator. She also landed her dream job teaching Italian at the University of Texas at Austin, where she eventually earned a PhD in Applied Linguistics.
After suffering through months of dry dissertation writing, Traci decided it was time to write a mystery again. She was inspired by the hundreds of Murder, She Wrote reruns she had watched to de-stress while in graduate school and the colorful mystery novels of Italian authors Andrea Camilleri and Gabriella Genisi she had read for school and for fun.
Of course, Traci would have never written a single line of text without the encouragement of her really persistent friend Linda and her Italian students, many of whom convinced her to write after listening to stories of her '80s college escapades and crazy-amazing adventures traveling in Italy. She is extremely grateful to them all.
---