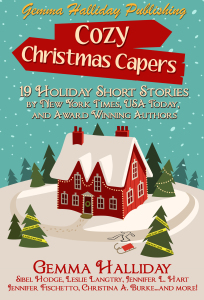 If you like cozy Christmas crime, then you'll love Cozy Christmas Capers! For this collection, I teamed up with Gemma Halliday and seventeen other New York Times, USA Today and award-winning authors to write a total of nineteen Noël-themed short stories just in time for the holidays.
You'll get a kick out of these tales of mystery and romance. They're set against backdrops of pine tress, gingerbread men, and Santas galore. These stories are the perfect short bites for cozying up by the fire with a cup of cocoa…or for passing the time while waiting in line at gift wrapping.
Here is the complete list of stories and series names, when applicable, and their authors (yes, I'm mentioned first, but only because of alphabetical order!):
Rosolio Red (Franki Amato Mysteries) by Traci Andrighetti
Chasing Tinsel (Miranda Vaughn Mysteries) by Ellie Ashe
Death of a Christmas Witch (A Crewel to be Kind Mini Mystery) by Diane Bator
Queenie Baby: Pass the Eggnog (Queenie Baby Mysteries) by Christina A. Burke
The Holiday Inside Job by Mary Jo Burke
Hard to Catch a Christmas Thief (Hard Targets) by Wendy Byrne
A Christmas Ghost & Zero Regrets (Dead by the Numbers Mysteries) by Jennifer Fischetto
Christmas Canapés & Sabotage (Culinary Competition Mysteries) by Janel Gradowski
Christmas in High Heels (High Heels Mysteries) by Gemma Halliday
Christmas Al Dente (Southern Pasta Shop Mysteries) by Jennifer L. Hart
Santa Claus, Lies, and Murder (Amber Fox Mysteries) by Sibel Hodge
A (Gingerbread) Diorama of Death (Helen Binney Mysteries) by Gin Jones
Mini Pie the Christmas Spy! (Mini Pie Mysteries) by Libby LaManna
Have Yourself a Deadly Little Christmas (Greatest Hits Mysteries) by Leslie Langtry
Ornamental Danger (Working Stiff Mysteries) by Kerri Nelson
Motion for Mistletoe (Jamie Winters Mysteries) by Kelly Rey
Christmas in Venice by Maria Grazia Swan
Baby, It's Cold Outside (Tahoe Tessie Mysteries) by T. Sue VerSteeg
Santa's Little Mistake by Stacey Wiedower
Cozy Christmas Capers is available only until January 31st, so don't wait to get your copy!
Amazon: http://amzn.to/124FjYo
Barnes & Noble: http://bit.ly/1twEMp6
Kobo: http://bit.ly/1qbOlb1
Smashwords: http://bit.ly/1CSuGFQ
Leave a comment about your favorite holiday food (because it's known far and wide that I'm a foodie) for a chance to win a free e-copy of Cozy Christmas Capers!
Happy reading and happy holidays!