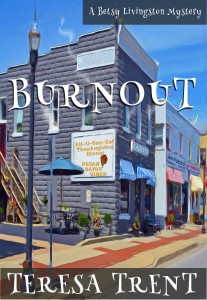 BURNOUT is on tour with Great Escapes, y'all, and this Texas Hill Country girl is thrilled to be the first stop!
In this fifth installment of the Pecan Bayou Mystery Series, Thanksgiving is just around the corner when Betsy Fitzpatrick, a.k.a. "The Happy Hinter," sees her newspaper column literally go up in smoke. Someone deliberately burned down The Pecan Bayou Gazette building, quite possibly with her boss, Rocky Whitson, still in it. Against the wishes of her new husband, Leo, Betsy is determined to figure out who may have killed Rocky. But her investigation is hampered by a list of suspects as long as crazy Miss Caroline's recipe index and by the nasty case of the flu plaguing the town (too bad The Happy Hinter doesn't have a remedy for that!). Plus, Betsy has pressing problems at home to attend to: a rebellious teenager and a workaholic husband. Will she be able to find out what happened to Rocky before someone else goes missing? Someone near and dear to her heart?
BURNOUT is a fun and easy read. The mystery is a real page-turner that will keep you guessing until the very end. And the small-town characters are a hoot. One standout is Ruby Green, the owner of The Best Little Hairhouse in Texas, and her trusty can of Final Net (which is a character in itself). Apart from the intriguing mystery and entertaining cast of characters, one notable theme of BURNOUT is the importance of parenting and familial relationships. Regardless of where you're from, you will fall in love with this fictitious Texas Hill Country community precisely because of the strong sense of family and fellowship it conveys.
RATING 5 Limoncello shots! (But Betsy shouldn't drink those. At least now right now…)
ABOUT Teresa Trent

Teresa Trent writes her Pecan Bayou Mystery Series from Houston, Texas. With a father in the army, her family moved often finally settling in Colorado. Living in Texas for the last 18 years she loves the people and even the weather. Teresa includes Danny, a character with Down Syndrome in her Pecan Bayou family and in real life is the mother of an adult son with Down Syndrome/PDD. Creating the character of Danny and all of the other inhabitants of Pecan Bayou has been a joy for her. Even though she lives in the big city, her writing is influenced by all of the interesting people she finds in small towns and the sense of family that seems to be woven through them all.
AUTHOR Links
Webpage: www.teresatrent.com
Facebook: https://www.facebook.com/teresatrentmysterywriter
GoodReads: https://www.goodreads.com/author/show/5219581.Teresa_Trent
Twitter: @ttrent_cozymys
PURCHASE Link (the Kindle ebook is FREE DURING THE TOUR!)
FOLLOW the BURNOUT tour and sign up to win a $25 Amazon.com Rafflecopter giveaway!
April 14 – Traci Andrighetti's Blog
April 15 – Shelley's Book Case
April 16 – Kelly P's Blog
April 17 – Mochas, Mysteries and Meows
April 18 – Books Are Life – Vita Libri
April 19 – Books-n-Kisses
April 20 – EASTER
April 21 – Michele Lynn Seigfried's Blog
April 22 – Community Bookstop
April 23 – readalot blog
April 24 – Back Porchervations
April 25 – rantin' ravin' and reading
April 27 – Cozy Up With Kathy
April 28 – My Recent Favorite Books
April 29 – Deal Sharing Aunt
April 30 – A Chick Who Reads
May 1 – Brooke Blogs
May 2 – Little Whimsy Books