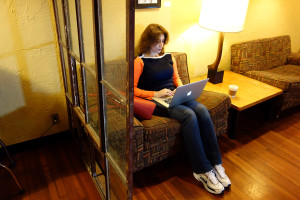 Ciao y'all! Today I'm participating in an international blog tour called "My Writing Process." I was invited by the fabulous Jodi Linton, who talked about her writing process last week on her blog.
Here are the questions, along with my answers, of course!
What am I working on?
Right now I'm writing Prosecco Pink, the second novel in the Franki Amato Mysteries. I'm on chapter 9, so only 16 more to go! Be sure to check out the blurb on my Books page.
How does my work differ from others of its genre?
The Franki Amato Mysteries are different for a couple of reasons. First, there is an Italian slant, and it's not just Franki's Italian-American heritage. I sprinkle in words and concepts that are key to the Italian culture. And I always add an Italian twist to the "cocktail of crime" I create in the books.
Also, I make sure that the setting of the Franki Amato Mysteries, the wild and wonderful city of New Orleans, functions as a character in the novels. NOLA's unique blend of cultures and traditions makes it the perfect place for a mystery, and I want readers to experience the city in the same way that they experience Franki, Veronica, Glenda, David and all the other "characters" in the series.
Why do I write what I do?
That's easy: passion. I'm completely "innamorata (in love)" with the Italian language and culture, I'm mad about mysteries, and I'm obsessed with the city of New Orleans. So, I decided that combining my three passioni in a series of humorous romantic mysteries would be the ideal way to share what I know and love with the world.
How does my writing process work?
Ideally, I would write for 3 to 4 hours every morning, but my day job definitely gets in my way. So, I have to seize writing time whenever I find it AND whenever I have the mental energy. That typically means an hour or so in the mornings and evenings on weekdays and eight to twelve hours on the weekends.
In case you're wondering, that's me in the picture above at my favorite weekend place to write: The Flight Path coffee house in Austin, Texas. It's just down the street from my house, and it's quirky like me and my books.
And there you have it. Or should I say, "And that's all she wrote, folks!"? Either way, if you want to meet some awesome authors and learn about their writing processes, check out the blogs of these lovely ladies on March 24th:
Jennifer Fischetto, National Bestselling author of the adult series, Jamie Bond Mysteries, also writes dead bodies for ages 13 to six-feet under. The first book, I Spy Dead People, in her new YA series, Disturbia Diaries, was released December 1, 2013.
Ellie Ashe
is a California-based writer whose first book, tentatively titled 
Trust Me, I'm a Lawyer
, will be published by Gemma Halliday Publishing later this year.