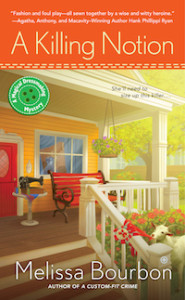 A KILLING NOTION is on tour with Great Escapes, and this Texas girl is tickled pink to be one of the stops!
Homecoming is fast approaching in Bliss, Texas, and Harlow Jane Cassidy, the owner of Buttons & Bows dress shop, is up to her elbows in ribbon and fabric for the traditional mums and dresses. To the dismay of her boyfriend, Will, her stepfather sheriff, and his deputy son, she's also knee-deep in a murder investigation. A local businessman has been killed and his football-player son, Shane, is the main suspect. The problem is that Shane is dating Will's daughter, Gracie, and she's related to Harlow (this is small-town Texas, y'all). So Harlow wants to help Will and Gracie by clearing Shane's name before the big game. Can Harlow solve the mystery before Homecoming weekend? Or will her upcoming romantic getaway to the Texas Hill Country with Will be sidelined?
Readers will be enchanted by A KILLING NOTION. The Cassidy women and their individual charms are pure magic on the page. And the small town of Bliss is as quaint as the chiffon rosettes on Gracie's Homecoming dress. The best part of this delightful book is that Melissa Bourbon actually crafts the mystery like a seamstress, skillfully sewing together the many pieces of the puzzle much like the pattern of a dress.
RATING 5 Limoncello shots! (Or should I go with bourbon?)
COMMENT for a chance to win a digital copy of either PLEATING FOR MERCY (book #1 in the Magical Dressmaking Mysteries) or LIVING THE VIDA LOLA (book #1 in the Lola Cruz Mysteries)
ABOUT Melissa Bourbon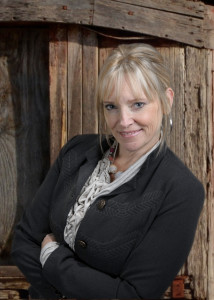 Melissa Bourbon, who sometimes answers to her Latina-by-marriage name Misa Ramirez, gave up teaching middle and high school kids in Northern California to write full-time amidst horses and Longhorns in North Texas.  She fantasizes about spending summers writing in quaint, cozy locales, has a love/hate relationship with yoga and chocolate, is devoted to her family, and can't believe she's lucky enough to be living the life of her dreams.
She is the Marketing Director with Entangled Publishing, is the author of the Lola Cruz Mystery series with St. Martin's Minotaur and Entangled Publishing, and A Magical Dressmaking Mystery series with NAL. She also has written two romantic suspense novels, a light paranormal romance, and is the co-author of The Tricked-out Toolbox, a practical marketing guide for authors.
AUTHOR Links
http://melissabourbon.com
https://www.facebook.com/AuthorMelissaBourbon.MisaRamirez?ref=hl
http://twitter.com/melissabourbon
PURCHASE Links
FOLLOW the A KILLING NOTION tour and sign up to win a Rafflecopter giveaway!
April 1 – rantin' ravin' and reading
April 2 – Escape With Dollycas
April 3 – Books-n-Kisses
April 4 – readalot blog
April 5 – Griperang's Bookmarks
April 6 – Melina's Book Blog
April 7 – Shelley's Book Case
April 8 – Back Porchervations
April 10 – A Chick Who Reads
April 11 – Brooke Blogs
April 12 – dru's book musing
April 13 – StoreyBook Reviews
April 14 – Books and Bindings
April 14 – Kaisy Daisy's Corner
April 15 – Mystery Playground
April 16 – A Year of Jubilee Reviews
April 17 – Queen of All She Reads
April 18 – Cozy Up With Kathy
April 19 – Community Bookstop
April 20 – Easter
April 21 – Traci Andrighetti's Blog
April 22 – Read Your Writes Book Reviews
April 24 – A Blue Million Books