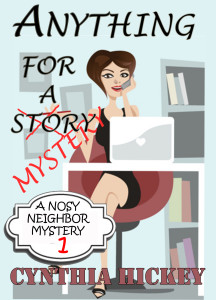 ANYTHING FOR A STORY is on tour with Great Escapes, guys! And since the protagonist Stormi Nelson is trying her hand at writing romantic mystery, I'm especially excited to be one of the stops!
When romance writer Stormi Nelson moves into a Victorian mansion in Oak Meadows Estates, she thinks she's found the perfect place to write her next bestseller. Although she wants to stay curled up in her house in front of the computer, her agent tells her to get out and meet people to breathe some new life into her characters. So Stormi decides to start a Neighborhood Watch program. But her first night on patrol, she discovers that the neighborhood is less than idyllic when she stumbles over a dead body. Things start to look up when the handsome detective who lives down the street comes to her aide. But then she returns home to find that her mother, sister, niece and nephew are moving in, and soon another victim is found dead. As Stormi immerses herself deeper and deeper into the mystery, the neighbors begin to turn on her. She realizes that she has to act before the killer turns on her and her family too.
ANYTHING FOR A STORY is a riot (and I'm not talking about all the noise Stormi and her family makes). I absolutely love the crazy characters that live in Oak Meadows Estates, and I'm particularly fond of Rusty because he's "special." Stormi's family is lots of fun too. Her skate-boarding nephew turns out to be a super sleuth, and her mother is a savvy spy. And the cute relationship that forms between Stormi and her mom is one of the best parts of this story—besides the kissing scenes with sexy Detective Steele, of course!
RATING 5 Limoncello shots! (Or, in this case, raspberry tea.)
ABOUT Cynthia Hickey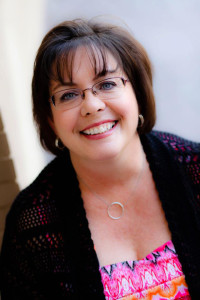 Multi-published and Best-Selling author Cynthia Hickey had three cozy mysteries and two novellas published through Barbour Publishing. Her first mystery, Fudge-Laced Felonies, won first place in the inspirational category of the Great Expectations contest in 2007. Her third cozy, Chocolate-Covered Crime, received a four-star review from Romantic Times. All three cozies have been re-released as ebooks through the MacGregor Literary Agency, along with a new cozy series, all of which stay in the top 50 of Amazon's ebooks for their genre. She has several historical romances releasing in 2013 and 2014 through Harlequin's Heartsong Presents, and has sold more than 150,000 copies of her works. She is active on FB, twitter, and Goodreads. She lives in Arizona with her husband, one of their seven children, two dogs and two cats. She has five grandchildren who keep her busy and tell everyone they know that "Nana is a writer".
AUTHOR Links
Website: www.cynthiahickey.com
FB: https://www.facebook.com/pages/Cynthia-Hickey/151333448227549
Twitter: https://twitter.com/cynthiahickey
PURCHASE Link
FOLLOW the ANYTHING FOR A STORY tour and enter to win an e-copy! a Rafflecopter giveaway
June 2 –StoreyBook Reviews
June 3 – Kelly P's Blog
June 4 – Traci Andrighetti's blog
June 5 – Queen of All She Reads
June 6 – Brooke Blogs
June 8 – Cozy Up With Kathy
June 9 – WV Stitcher
June 10 – Mochas, Mysteries and Meows
June 11 – Shelley's Book Case
June 12 – Socrates Book Reviews
June 14 – dru's book musing