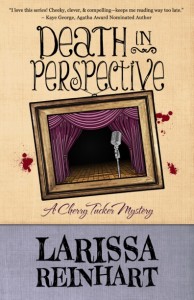 DEATH IN PERSPECTIVE is on tour with Great Escapes, y'all! Comment below for a chance to with a Cherry Tucker ebook of your choosing!
SYNOPSIS
In Cherry Tucker's fourth mystery, the curtain rises on Cherry's debut as a high school set designer at the posh, private Peerless Day Academy. Cherry's been hired to design scenery for an avant garde adaptation of Romeo and Juliet, but the theater teacher's hoping Cherry can also turn the spotlight on a malicious bully who's sending poisonous texts to the faculty. The director's got his own drama to hide, and the phantom texter seems eager to spill school secrets. When a school secretary's death is ruled a suicide, Cherry suspects foul play. The phantom bully may be using blackmail to rid the school of unwanted staff, urging a Montague-Capulet styled showdown.
With Deputy Luke Harper wanting to return as Cherry's leading man, he's eager to assist her efforts in fingering the phantom culprit, but Cherry fears family secrets may doom them to the role of star-crossed lovers. Offstage, Cherry's searching for her missing brother who's fixed on a vendetta against Luke's stepfamily, so she instead turns to the local, foreign racketeer, Max Avtaikin, for assistance. With the bully waiting for a murderous encore and her own family skeletons to hide, Cherry scrambles to find her brother and the mysterious texter before the phantom decides its curtains for Cherry and forces her to take a final bow.
RATING 5 Limoncello shots! (Or, in this case, draft beers.)
You'll get a real kick out of DEATH IN PERSPECTIVE! Cherry Tucker is full of Southern sass and spunk, and Larissa Reinhart is a born and bred story teller. The private school setting is the perfect environment for a mystery with quirky characters like those in Halo, Georgia. I hadn't read a Cherry Tucker Mystery before this one, but you can bet I'll read them all now. I can't wait to see what happens between Cherry and the sexy Deputy Luke Harper, and I definitely want to find out the backstory on Cherry's mother, brother, and nemesis Shawna Branson. Bring on number 5!
ABOUT Larissa Reinhart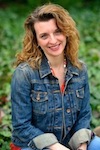 After teaching in the US and Japan, Larissa enjoys writing, particularly sassy female characters with a penchant for trouble. She lives near Atlanta with her family and Cairn Terrier, Biscuit.
Visit her website or find her chatting on Facebook. Death in Perspective is the fourth book in the best selling Cherry Tucker Mystery series. The first, Portrait of a Dead Guy, is a Daphne du Maurier finalist, Emily finalist, and Dixie Kane Memorial winner.
AUTHOR Links
Website: http://larissareinhart.com/
Amazon Author Page: http://amzn.to/1qMwr29
Facebook: http://www.facebook.com/RisWrites
Twitter: http://www.twitter.com/RisWrites
Goodreads: http://www.goodreads.com/author/show/5806614.Larissa_Reinhart
Pinterest: http://pinterest.com/LarissaReinhart/
PURCHASE Links
Amazon
FOLLOW the DEATH IN PERSPECTIVE Tour and enter the Rafflecopter giveaway!a Rafflecopter giveaway
June 24 – Mommasez…
June 25 – readalot blog
June 26 – Chloe Gets A Clue
June 27 – Shelley's Book Case
June 28 – Carole's Book Corner
June 29 – off
June 30 – deal sharing aunt
July 1 – Traci Andrighetti's blog
July 2 – A Chick Who Reads
July 3 – Michelle's Romantic Tangle
July 4 – off
July 5 – rantin' ravin' and reading
July 6 – Back Porchervations
July 7 – Traveling With T
July 8 – Melina's Book Blog
July 9 – Community Bookstop