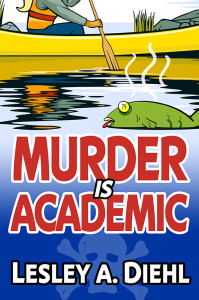 MURDER IS ACADEMIC is on tour with Great Escapes, and this ex-academic is thrilled to be one of the stops!
When psychology professor Laura Murphy stumbles upon the body of her college president at a local construction site, she certainly doesn't expect to find herself a suspect in his murder. Nor does she anticipate that rising bacteria levels in the upstate New York lake on which she lives are connected to the crime. But when the director of the college's Biological Field Station turns up dead, she becomes convinced that something fishy is going on at the lake and at the college. As her involvement in the investigation deepens and the summer storm season gets underway, Laura must uncover the identity of the murderer before she winds up sleeping with the fishes.
As a former academic, I was impressed with the setting and plot of MURDER IS ACADEMIC. The stodgy, often chauvinistic professors and scheming faculty administrators were all too familiar, and I really identified with Laura as she wrestled with an unfinished manuscript. Ugh!
One of my favorite aspects of the novel was the way in which Laura interacted with both the campus faculty and the the members of the Onondaga Falls community. She is a no-nonsense, down-to-earth character who draws in those around her—as well as her readers. Laura is like an old friend, and I hope she returns for yet another academic adventure.
RATING 5 Limoncello shots! (Or, in this case, snifters of brandy.)
ABOUT Lesley A. Diehl
Like me, my protagonists choose to live their lives close to nature. From the deep, green river valleys and tree-covered mountains of upstate New York to the palm-treed pastures of the Big Lake Country in Florida, these women have found their homes and their hearts in rural America. These plucky snoops are joined by a transplant from Connecticut, Eve Appel, who moves to rural Florida to set up a consignment shop with her best friend and partner, Madeleine Boudreau.
All these amateur sleuths yearn for the simple, artless existence of hard work coupled with rustic pleasure.
That's why they live away from big cities, but murder and violence have a way of stalking us, even our plucky heroines, who think they've avoided life's perils.
AUTHOR Link
PURCHASE Links
FOLLOW the MURDER IS ACADEMIC Tour
May 15 – rantin' ravin' and reading
May 16 – Shelley's Book Case
May 17 – The Book Junkie
May 19 – Bea's Book Nook
May 20 – fuonlyknew ~ Laura's ramblins and reviews
May 21 – deal sharing aunt
May 22 – Victoria's Pages of Romance
May 23 – Traci Andrighett's blog
May 26 – Melina's Book Blog
May 27 – Cozy Up With Kathy
May 28 – Socrates' Book Reviews
May 29 – Back Porchervations
May 30 – Community Bookstop
May 31 – StoreyBook Reviews