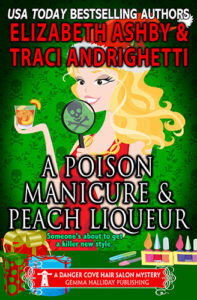 Cassidi Conti and Gia Di Mitri are in for a hairy holiday at The Clip and Sip salon. The poor things had just gotten over the Deadly Dye and a Soy Chai mystery when A Poison Manicure and Peach Liqueur happened.
Here's my take on the events:
It's Christmas in Danger Cove, and all Cassidi Conti wants is clients. A rival salon owner has come to town and stolen The Clip and Sip's business. Her holiday hopes go south, however, after someone sexes up the sleigh display at her open house, and an incident from the past makes the paper. Luckily, her tough talkin' Texan aunt rides to her rescue, and she's madder 'n The Grinch in a gift shop. But when a nail client drops dead at her rival's salon, and the killer sends unseasonal greetings to The Clip and Sip, Cassidi wonders whether an entire Texas cavalry could save her from the impending disaster. She has to act fast to figure out who the manicure murderer is, or her Noël could be nixed—forever.
But don't take my word for it. Read what Cassidi and Gia had to say about the mystery when they stopped by Dru's Book Musings.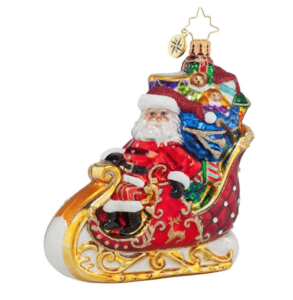 And don't forget to enter to win this Christopher Radko "Dashing Delivery Santa Sleigh"ornament! It's what Cassidi's rooftop sleigh display looked like—before someone sabotaged it.
You can earn up to two entries by:
Following me on BookBub (it's free!) and
Buying A Poison Manicure and Peach Liqueur (it's on sale!).
All you have to do is email a screenshot of your follow or purchase to traci@traciandrighetti.com.
Now I'm off to get ready for Christmas! Here's hoping it's better than Cassidi and Gia's . . .