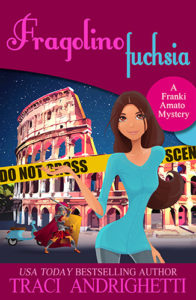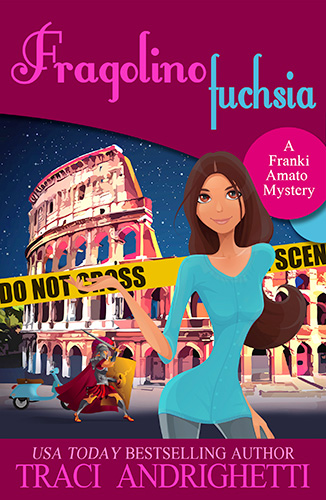 FRAGOLINO FUCHSIA is finally an ebook—well, an estory! My favorite thing about it is that I used a few real people as characters, like Elio Guida and Silvana Spaccino from Rome's Hotel Residence Magnolia. My husband, Graham, and I stayed there on our honeymoon, and we got so attached to the staff that we stay there every time we go back. Now they're famiglia!
By the way, Elio introduced me to fragolino, which is a sweet liqueur made from tiny wild strawberries. Naturally, I let him read this story, and he confessed that it made his cheeks turn fuchsia like the title. You'll figure out why when you read it, but if you're sleuth-minded, I'm sure you already suspect Glenda.
Fragolino Fuchsia also features a literary amalgamation of my many run-ins with the Colosseum's modern-day gladiators. To give you an example, several years ago I walked past a gaggle of those guys, and without warning, one of them swept me off my feet—and wouldn't put me down. But thanks to my mouth, and now this story, I won that epic battle.
One inside joke in this story has to do with the gladius, an ancient Roman sword. On two occasions, I was hired as an Italian interpreter for a high school study abroad trip. The students were all studying Latin, and a couple of the fourteen-year-old boys tried to buy one of these swords, thinking they could bring it home with them on the plane. I still laugh about that—and the fact that one of them told Graham (who tagged along on the second trip) that his bathroom had a special bathtub for babies, i.e., the bidet.
I could go on, but I won't because I need to get to the point. FRAGOLINO FUCHSIA is GRATIS (FREE) to people who subscribe to my reader group! Can you say CIAO, ROMA? I will send an email with a download link to all of my subscribers on October 17.
Sometime I'll have to tell you the backstory on the Trevi Fountain theme in Fragolino Fuchsia. But, for the time being, you'll have to be satisfied with the blurb:
Franki Amato is taking it easy in The Big Easy when her best friend and boss, Veronica Maggio, gives her terrible news. The research assistant for their PI firm has gone missing with his fraternity brother on a spring break trip in Rome! Franki catches a flight to Italy, but not for a Roman holiday. Because evidence suggests the boys have gotten mixed up in something sinister. To crack the case, Franki goes toe to toe with the likes of gladiators, mobsters, and a monk. Meanwhile, the clock is ticking, and hope is running out. Will she find the boys in time? Or is it arrivederci, baby?
GIVEAWAY ALERT: I've teamed up with 35 authors to give away a huge collection of comedy mysteries to two lucky winners and a new eReader to a Grand Prize winner. Click here to enter!