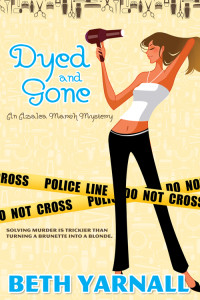 DYED AND GONE is on tour with Great Escapes, and I'm hosting Beth Yarnall on my blog today. Based on her post, I can see that she and I have cocktails, color and crime in common!
Slinging it in Vegas
In my novel, DYED AND GONE, Azalea and the gang meet at a Las Vegas bar to discuss the clues they've found and try to guess whodunit. Azalea orders a Vodka Collins and Juan Carlos orders a Singapore Sling.
The Singapore Sling was created at the Raffles Hotel in 1915 by Hainanese-Chinese bartender, Mr. Ngiam Tong Boon. It's served in a hurricane glass and known for its pink color and foam at the top.
Here's the recipe in metric measurements from the original Raffles Hotel menu:
30 ml Gin
15 ml Cherry Brandy
120 ml Pineapple Juice
15 ml Lime Juice
7.5 ml Cointreau
7.5 ml Dom Benedictine
10 ml Grenadine
a Dash of Angostura Bitters
a slice of pineapple and a cherry for garnish
Total yum. What's your favorite (alcoholic or non-alcoholic) cocktail? Bonus points if you post the recipe! (There are no actual bonus points. It's just that I'm always on the look out for new and interesting drink recipes, so please share!)
EXCERPT from DYED AND GONE
Richard and I shot Juan Carlos a startled glance. Either he'd been faking sleep or our conversation had woken him up. He looked focused and ready for action, not at all like the wreck he'd been earlier.
"What did you hear?" I asked him.
"Almost all of it. Vivian needs our help and we're going to give it to her." Juan Carlos swung his legs over the side of the bed and sat up. He weaved a little and grabbed his head.
"Easy." Richard rushed to his side. "Here, have some water. And we should probably get some food in you." He looked to me.
"Right. Okay. We'll grab some food, then head down to the convention center. But first we need to call James." The thought of calling Vivian's boyfriend gave me some measure of courage and purpose.
"Oh, I forgot all about James. That's a good idea. He has that hot friend who's a cop. Call him—he'll know what to do." I shot back the rest of my whiskey, my cheeks burning as badly as my stomach lining.
The hot cop Juan Carlos was talking about was Alex Craig. We'd met at Vivian and James's New Year's party. He'd asked me out. We went on a couple of dates and had hit it off…or so I'd thought. He said he'd call and then had somehow lost all knowledge of how to use a phone. He was the reason I'd sworn off 55 men and had been binge-buying Laura Ashley dresses. As much as I hated to admit it, he was probably Vivian's best chance. Still, the idea of my having to deal with this particular police officer was right up there with having a root canal or a gynecological exam by a doctor with unusually large hands.
ABOUT Beth Yarnall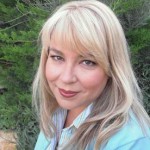 Best selling author, Beth Yarnall, writes romantic suspense, mysteries and the occasional hilarious tweet. A storyteller since her playground days, Beth remembers her friends asking her to make up stories of how the person 'died' in the slumber party game Light as a Feather, Stiff as a Board, so it's little wonder she prefers writing stories in which people meet unfortunate ends. In middle school she discovered romance novels, which inspired her to write a spoof of soap operas for the school's newspaper. She hasn't stopped writing since.
For a number of years, Beth made her living as a hairstylist and makeup artist and co-owned a salon. Somehow hairstylists and salons always seem to find their way into her stories. Beth lives in Orange County, California with her husband, two sons, and their rescue dog where she is hard at work on her next novel.
AUTHOR Links
Website: http://www.bethyarnall.com/
Blog: http://www.bethyarnall.com/?page_id=2345
Twitter: @BethYarnell
Facebook: http://www.facebook.com/BethYarnallAuthor
Goodreads: http://www.goodreads.com/author/show/6431701.Beth_Yarnall
Newsletter: http://www.bethyarnall.com/?page_id=2639
PURCHASE Links
Amazon: http://amzn.to/1ne07CE
Barnes & Noble: http://bit.ly/1lzlIY3
EP Book: http://bit.ly/1ne0E7J
FOLLOW the DYED AND GONE tour for your change to win a Rafflecopter giveaway!

April 10 – Kelly P's Blog
April 11 – Shelley's Book Case
April 12 – deal sharing aunt
April 14 – Back Porchervations
April 15 – rantin' ravin' and reading
April 16 – Carole's Book Corner
April 17 – Brooke Blogs
April 18 – Chloe Gets A Chloe
April 20 – Easter
April 21 – Socrates' Book Reviews
April 22 – readalot blog
April 23 – Read Your Writes Book Reviews
April 24 – Traci Andrighetti's blog
April 25 – Community Bookstop
April 28 – Michele Lynn Seigfried's Blog
April 29 – Escape With Dollycas Into A Good Book