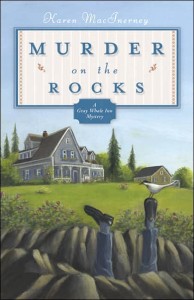 The day after Thanksgiving, I cleared my calendar so that I could read Murder on the Rocks (Midnight Ink, 2006) by Austin's own Karen MacInerney. This book is the first in MacInerney's Gray Whale Inn Mysteries, and it was nominated for the prestigious Agatha Award.
In the novel, thirty-eighty-year-old Texan Natalie Barnstone has cashed in her life savings to buy the Gray Whale Inn on Maine's Cranberry Island. While Natalie plans to build a cozy new life for herself baking delicious goodies for her guests at the inn, land developer Bernard Katz has other building plans: to raze the inn to make a parking lot for his resort. Unfortunately for Natalie, the town sides with Katz, even though his resort will endanger the black-chinned terns nesting on the island. Not one to give in without a fight, Natalie rallies to save the birds, the quaint fishing community and her livelihood. But then Katz is found dead, and Natalie discovers that she's not only the main suspect, she's also a potential victim . . .
The writing in Murder on the Rocks is so crisp and vivid that I could almost smell the sea air and taste the fudgy frosting on Natalie's Cranberry Island Blackout Brownies. And the entire time I was reading, I found myself wishing that I were curled up in a room at the Gray Whale Inn—even with a murderer on the loose. The best part of the book was that I felt like I was there solving the mystery with Natalie and her friends.
So, whether you're a reader looking for an intriguing escape or a writer looking for a model of the cozy mystery genre, Murder on the Rocks is the book for you. I mean, there's murder at an inn in Maine, and the recipes for Natalie's baked treats are included in the back. So, you can have her Wicked Blueberry Coffee Cake and eat it too. What more could you possibly want?