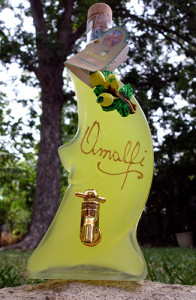 To celebrate the completion of my first novel, Limoncello Yellow, I'm debuting my blog with a post on Limoncello. This tasty lemon liqueur is one of my favorite imports from Italy, besides pretty much any product from Gucci, of course.
Although it's often confused with Limoncino (its Northern cousin), Limoncello is its own distinct brand. It's made from lemons grown in the territory between Sorrento and Amalfi, which includes the stunning islands of Ischia and Capri.
These days, Limoncello is available in most U.S. liquor stores, and there are a lot of American-made brands too. But if you can't find Limoncello in your area, it's easy to make. It just takes a while to infuse. Here's a recipe from Southern Italy:
Limoncello
10 medium-sized Meyer lemons (15 if they're small)
1 quart Everclear
1 ½ quarts water
2 ¾ pounds sugar
Wash and peel the lemons. Soak the lemon peels in ¾ of the Everclear for one to two months. Then store the mixture in a cool, dark place in an airtight container.
Once the Everclear is infused with the oil from the lemon peels, boil the sugar and water until it makes a syrup (about 5 minutes). Let the syrup cool, and then pour it into the lemon peel mixture along with the remaining Everclear.
Store the Limoncello mixture in a cool, dry place for 40 more days. Then strain it using cheesecloth to remove all of the lemon peels. Now, you're ready to bottle your Limoncello and drink it! Just don't forget to chill it in the freezer first.
If you'd like to try Limoncello with a Tex-Mex twist, here's a fun drink recipe:
Limoncello Margarita
2 ounces tequila
1 ounce Grand Mariner
1 ounce Limoncello
½ ounce fresh lemon juice
½ ounce fresh lime juice
¼ to ½ teaspoon simple syrup or sugar
salt (for the rim of the glass)
So, when life gives you lemons, forget the lemonade and make Limoncello. Or yummy Limoncello margaritas.