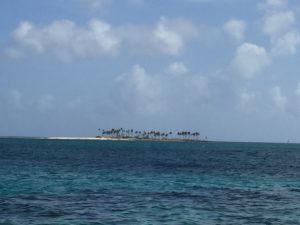 Last week my husband, son, and I went on our first cruise to Key West and The Bahamas. Visions of the Titanic swirled in my head as I boarded the ship, but thankfully the massive thing stayed afloat. Not only that, it almost never seemed to be moving. Once I didn't even realize we'd left a port. Talk about smooth sailing!
I loved a lot of things about the ship and the ports we visited, not to mention the international staff and crew. But a few things really stood out: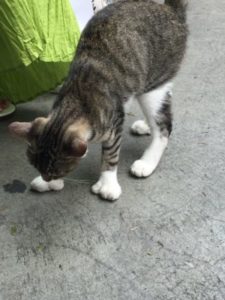 Accidentally ending up at Gilligan's Island!
Fortunately, we weren't shipwrecked. We went on a snorkeling and "snuba" tour in The Bahamas, and the boat driver took us to a site surrounded by five islands including Sandy Cay, which appeared in the opening of the first season of Gilligan's Island. The other islands were featured in Pirates of the Caribbean, four James Bond films, The Island of the Blue Lagoon, and Flipper. And no, we did NOT try to rescue Gilligan, The Skipper, or the other castaways. They'd just end up back on the island, anyway.
Seeing the six-toed cats at Ernest Hemingway's house.
A ship captain gave Hemingway a six-toed cat named Snow White, and the fifty cats living at his home today are her descendants. Most of them are polydactyl, but we met a few who didn't have the extra toes. A veterinarian visits them every week, and each cat breeds once and then is spayed or neutered. They literally have the run of the place—including climbing on the dining table and sleeping on Hemingway's bed.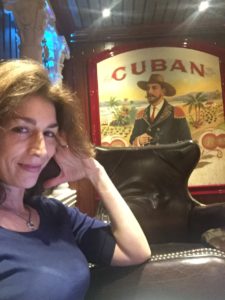 Writing in the Habana Bar on the ship.
Campari Crimson, my fourth Franki Amato mystery, is underway, and I wanted to keep the flow going while I was cruising. The Habana Bar was a perfect place to write because it wasn't open for drinks until evening. Also, Hemingway loved to write while he was in Cuba, so writing in a fake Cuban bar on a cruise ship was an inside joke with myself. I figured it was as close as I was going to get to Cuba—and to being like Hemingway. 😉
Speaking of writing, the insanely talented Madeline Mrozek narrated Amaretto Amber, the third Franki Amato mystery, and I'm giving away copies of the audiobook. Leave a comment about your favorite vacation spot for a chance to win a copy.