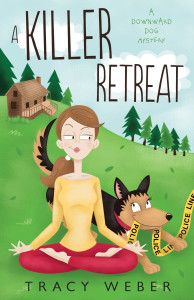 A KILLER RETREAT, the second novel in Tracy Weber's Downward Dog mysteries, is on tour from January 5th through January 19th with Great Escapes!
GIVEAWAY
Enter the Rafflecopter giveaway below to win a limited edition A KILLER RETREAT t-shirt, a Downward Dog Mysteries coffee mug, a signed bookmark, and a $25 Amazon gift card!
SYNOPSIS
When Kate Davidson gets an offer to teach yoga classes to wedding guests at the Elysian Springs resort, she jumps at the opportunity, even though it means being forced to endure the wedding ceremony of the center's two caretakers.
Avoiding the M-word turns out to be the least of Kate's problems when a wedding guest is found floating face-down in the resort's hot tub, shortly after a loud, public (and somewhat embarrassing) fight with Kate. The police pick Kate as their number-one suspect, so she's forced to team up with boyfriend Michael, best friend Rene, and German shepherd sidekick Bella to find the real killer. But they'll have to solve the murder before the police arrest Kate, or her next gig may last a lifetime–behind bars.
REVIEW 5 Limoncello shots!
In this fun follow-up to MURDER STRIKES A POSE, Kate Davidson finds herself in a real jam both personally and professionally. But just when you're thinking Kate's down for the count, she manages to put the puzzle pieces together and save her own "asana" (sorry, I couldn't resist!). As both a yogini and a dog lover, I particularly appreciated the way that Kate's yoga practice and Bella (and her medical condition) were incorporated into the plot. I also loved the character of Rene because she's a real "character," as were the members of that wedding party (we all know that families are crazy, right?). And one of my favorite aspects of A KILLER RETREAT is that it was written by an author named Tracy. I mean, what more can you ask for in a mystery? 😉
ABOUT Tracy Weber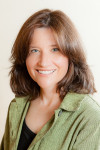 Tracy Weber is the author of the award-winning Downward Dog Mysteries series featuring yoga teacher Kate and her feisty German shepherd, Bella. Tracy loves sharing her passion for yoga and animals in any form possible.
Tracy and her husband live in Seattle with their challenging yet amazing German shepherd Tasha. When she's not writing, Tracy spends her time teaching yoga, walking Tasha, and sipping Blackthorn cider at her favorite ale house.
AUTHOR Links
http://tracyweberauthor.com/
http://www.wholelifeyoga.com/blog/
https://www.facebook.com/tracywe
http://www.goodreads.com/author/show/7148442.Tracy_Weber
https://twitter.com/TracyWeberTypes
PURCHASE Links
Amazon    B&N    Book Depository
FOLLOW the A KILLER RETREAT Tour and enter the Rafflecopter giveaway!
January 5 – Booklady's Booknotes – Review
January 6 – Shelley's Book Case – Review
January 7 – Mochas, Mysteries and Meows – Review, Interview
January 8 – Christa Reads and Writes – Interview
January 9 – readalot – Review
January 10 – off
January 11 – Cozy Up With Kathy – Review, Interview
January 12 – Traci Andrighetti's blog – Review
January 13 – Kelly P's Blog – Guest Post
January 14 –  WV Stitcher – Review
January 15 – Read Your Writes Book Reviews – Review
January 16 – Escape With Dollycas Into A Good Book – Review
January 17 – 3 Partners in Shopping, Nana, Mommy, & Sissy, Too! – Guest Post
January 18 – Libriamorimiei – Review
January 19 – dru's book musings – Guest Post