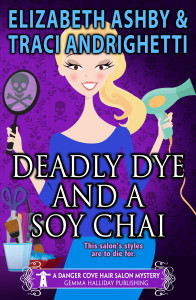 Thanks to one CRAZY summer (trips to Graceland, the Grand Ole Opry, and New York City) and a looming book deadline for AMARETTO AMBER (the third Franki Amato mystery), I've been away from my blog for a while. But DEADLY DYE AND A SOY CHAI, the first mystery in the Danger Cove Hair Salon series, is going on tour, so I'm back in the saddle again!
SYNOPSIS:
Native Texan Cassidi Conti was expecting to face some obstacles when she moved to Danger Cove and opened The Clip and Sip, a hair salon that gives away free drinks. What she wasn't counting on was a client dying during a dye job. But when eighty-year-old Margaret Appleby comes in for her biweekly appointment, that's exactly what happens: Margaret drinks her usual soy chai, dozes off under the dryer…and doesn't wake up. Now The Clip and Sip is under suspicion, clients are wary, and Cassidi is on a mission to prove that while her styles may be killer, her employees are innocent! But as Cassidi wades through the myriad of suspects in the small, costal town, the killer sets his sights straight on everyone's favorite stylist. If Cassidi doesn't watch her back, she may just end up Danger Cove's latest fashionable victim.
SCHEDULE:
September 27 – Chloe Gets A Clue – Interview 
September 28 – readalot – Review, Giveaway 
September 29 – Laura's Interests – Review, Giveaway
September 30 – Queen of All She Reads – Review, Guest Post, Giveaway
October 1 – Brooke Blogs – Review, Guest Post, Giveaway
October 2 – Book Babble – Review
October 3 – 3 Partners in Shopping, Nana, Mommy,  &, Sissy, Too! – Spotlight, Giveaway
October 4 – Cozy Up With Kathy – Guest Post
October 5 – Natural Bri – Review, Guest Post, Giveaway
October 6 – Mystery Thrillers and Romantic Suspense Reviews – Spotlight 
October 7 – deal sharing aunt – Interview 
October 8 – LibriAmoriMiei – Review
October 9 – Michele Lynn Seigfried's Blog – Review, Giveaway
October 10 – Babs Book Bistro – Spotlight
October 11 – Tea and A Book – Review, Guest Post
!!GIVEAWAYS GALORE!!
Be sure to enter the Rafflecopter Giveaway for the "Kate Spade Cobble Hill Bow Stacy" wallet in blue pebbled leather (the winner will be randomly selected at the end of the tour).
Also, you can enter to win an e-book at each stop of the tour! DO. IT.