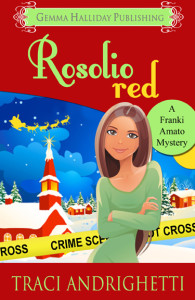 On the occasion of the June 18th re-release of "Rosolio Red," my Franki Amato Christmas story, I decided to write about a decadent dessert that plays a role in the plot (and give away the Kate Spade Sawyer Street Maxi handbag below!). It's called le minne di Sant'Agata, which is Italian for "Saint Agatha's [ahem] tits," and it's a popular dessert in Italy and especially in Sicily.
Now, you're probably wondering why Italians eat baked boobs. It's to honor Saint Agatha (b. 231 AD – d. 251 AD), whose breasts were severed as a form of torture for refusing to renounce her Christian faith. Not surprisingly, Agatha is the patron saint of her hometown of Catania (Sicily), martyrs, breast cancer and wet nurses. But she's also the patron saint of fire, bakers, bell founders and eruptions of Mount Vesuvius (I can kind of see the last two).
Although Italians typically eat these provocative pastries on Saint Agatha's feast day, which is February 5, I refer to them in "Rosolio Red." In this short story, Franki Amato returns home to Houston to investigate the disappearance of her meddlesome Sicilian grandma. And when I needed Franki's banker boyfriend, Bradley, to find himself in an awkward situation at the Amato family dinner table, these titillating treats came instantly to mind.
If you want to find out what happens between Bradley and the bosoms, be sure to get your copy of "Rosolio Red." It's already available as an ebook everywhere. And, just in case you want to whip up a batch of these nosh-worthy knockers for your next holiday party, here's the recipe:
LE MINNE DI SANT'AGATA
THE PASTRY
2 cups flour
6 ounces butter
2/3 cup powdered sugar
3 egg yolks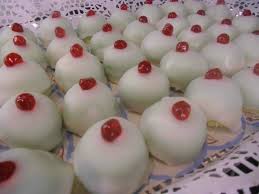 1 teaspoon of vanilla extract
THE FILLING
3 cups ricotta
2 ounces candied orange peel, cubed
1 1/2 ounces dark chocolate chips
1/3 cup powdered sugar
zest of 1 orange
THE GLAZE
3 cups powdered sugar
3 egg whites
3 tablespoons lemon juice
10 maraschino cherries
PREPARATION
Mix the flour and cold butter in a food processor. Place the mixture onto a flour-dusted board, and add the egg yolks and the vanilla extract. Knead lightly until ingredients are mixed. Wrap the dough in plastic wrap and let it set in the refrigerator for half an hour.
Meanwhile, for the filling, sift the ricotta through a sieve. Next, add the powdered sugar, orange zest, candied orange, and chocolate chips.
Roll the chilled pastry dough into a 1/5-inch thick sheet. Then cut 3-inch diameter circles from the sheet. Line spherical molds with the circles of dough, then fill the lined molds with about 2 1/2 ounces of the ricotta mixture. Seal the stuffed molds with another circle of pastry, pressing the edges down.
Next, bake in a preheated oven at 400° for 20 minutes. When the cakes are golden brown, remove from the oven and cool in the molds. After they have cooled completely, remove from the molds and place on a wire rack.
To make the glaze, beat the egg whites with the lemon juice. Add the sifted powdered sugar and beat on a low speed until smooth. The consistency of the glaze should be that of thick batter.
Pour the glaze over the cakes while they're still on the cooling rack. Top each cake with a candied cherry. Let the glaze has dry and then serve.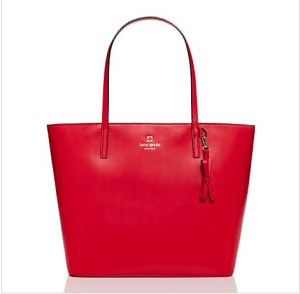 Buon appetito!
GIVEAWAY
To enter the Kate Spade handbag giveaway, see details on Gemma Halliday's Facebook page starting June 18th at 9 a.m. Pacific time!
The bag is called the "Sawyer Street Maxi," and it's fabulously red!
In bocca al lupo!