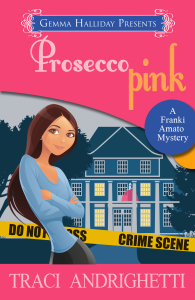 Prosecco Pink, the second novel in my Franki Amato Mystery series, is out! For this book, as with Limoncello Yellow, I was inspired by the intriguing city of New Orleans. The plantation part of the plot came to me while sipping a mint julep at Oak Alley plantation, and pirate part came to me while slurping on a purple voodoo at Jean Lafitte's Blacksmith Shop (uh-huh, I plan murders while I drink—fictional ones, of course). Then I added Prosecco, the color pink and poison, and the mystery was born.
Here's the book blurb for Prosecco Pink:
For Franki Amato, life in New Orleans is anything but "The Big Easy." When she met handsome bank executive Bradley Hartmann, she knew she'd finally found a man she could trust. But she can't say the same for his sexy new secretary, who is about as trustworthy as Mata Hari and every bit as seductive. Meanwhile, Franki's best friend and employer, Veronica Maggio, has named her the lead investigator in the murder of a gorgeous cosmetics CEO who was found lying dead in the master bedroom of a historic plantation home.
Now the pressure is on Franki to figure out what a bottle of pink lip gloss and the legend of a pink diamond have to do with the bizarre killing. The problem is that the plantation is notorious for being haunted, and Franki is less than enthusiastic about the prospect of meeting a ghost. Adding to her stress, her Sicilian grandma is up to her usual meddling antics—this time planning Franki's engagement to Bradley before he's even considered popping the question. As Bradley grows distant and plantation employees begin dropping like Southern belles during a sweltering summer, Franki turns to a psychic with a phobia of ghosts to solve the mysterious murders and her own relationship fears.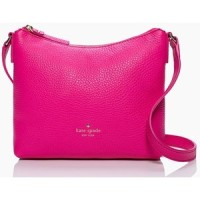 To celebrate the release of Prosecco Pink, I'm giving away this Kate Spade "Henry Lane Aubree" bag in rio pink (but let's call it Prosecco Pink, shall we?). To enter for a chance to win, click this link to the Facebook promo page.
Want more? Then follow my release day blitz tour and enter to win a pink Kate Spade Cobble Hill Stacy wallet!
And keep an eye on my blog, because more Franki Amato and more pink Kate Spade are coming very soon!