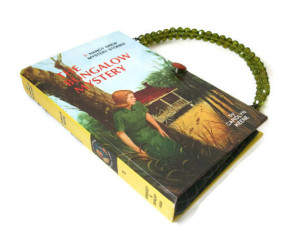 Like a lot of female mystery authors, I was a huge Nancy Drew fan as a little girl. So, when Avery Flynn mentioned "the Nancy Drew purse" during a panel discussion at Fresh Fiction's Readers 'n Ritas conference, I started salivating. And right then and there I pulled my laptop from my Michael Kors tote and googled the prized purse.
I'm not sure what I was expecting in a Nancy Drew purse, but what I wasn't expecting was a vintage book that had been "repurposed" as a handbag. As an author myself, I was naturally conflicted about this mystery massacre. On the one hand, I felt remorse about purchasing the purse and thereby supporting the destruction of an original Carolyn Keene. But on the other, I coveted the repurposed book because it represented both my childhood passion for Nancy Drew and my realized adult dream of becoming a mystery writer.
To resolve my dilemma, I did what any self-respecting, Nancy Drew–obsessed author would do: I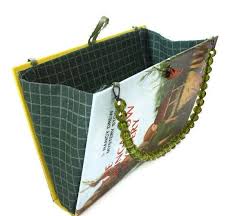 emailed my parents and asked for the purse for Christmas. That way, they were the ones who were directly contributing to the slaughter of vintage Carolyn Keene books, not me.
Of course, when Christmas day arrived, The Bungalow Mystery purse was waiting for me under the tree. And it was even more perfect than I could have imagined because I actually live in a historic bungalow home. The funny thing is, I haven't been able to bring myself to use the purse yet. I'm afraid that I'll be accused by random strangers of killing a Carolyn Keene, which for me is like having members of a book preservationist society throw red paint on me in my public.
So, readers, tell me: Should I use the Nancy Drew purse or give it a decent burial in my closet?