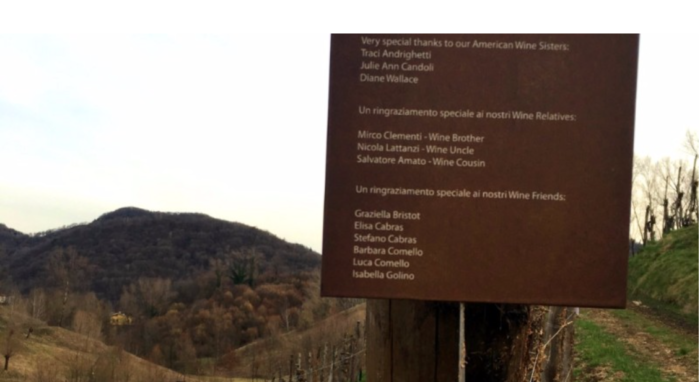 In March I went on a whirlwind business trip to Italy. While I was there, I worked in some pleasure. What kind? Easy—a winery. Because my life wouldn't have been complete without visiting a vineyard that grows the glorious grapes that produce prosecco. I mean, come on.
It all started when I saw a tweet by an Udine-based group called The Winefathers, who have created a kind of Kickstarter for artisanal wine producers in Italy. Basically, you pay to become a member of a wine grower's family. First you pick a project, i.e., where you want to go—unless you just want to order wine (in which case, you stay home and wait for it). Then you choose your sponsorship level, i.e., your relationship to the family—wine cousin, wine friend, wine uncle/aunt, wine brother/sister, wine father/mother—depending on what you want from the experience.
The projects are amazing. For example, you can hang with wine-growing nuns (yeah, they drink too!) on the island of Sardinia, rub elbows with people who produce wine on Sicily's Mount Etna (that's a live volcano, people), or chill at the Bele Casel winery in Caerano San Marco in the Veneto region (where Venice is, y'all). And they're just a few of the sponsorship options.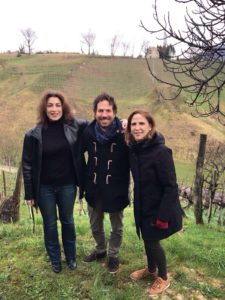 I chose "The Wild Vineyard of Monfumo" project in the Veneto because that's where my nonno (grandfather) was born. And since I had 24 hours to kill, I became a wine sister, which meant that I got to bring someone with me to do cool things like tour the winery, eat lunch with the family, stay at a stylish B&B, and, of course, drink prosecco. Not only that, I was given six bottles of the stuff to take with me when I left. Benvenuta in Italia (welcome to Italy)!
What was it like? Well, I loved the 100-year-old vineyard—it was bellissima. But the best part was probably being with the Ferraro family (including their adorable dog, Ettore) and meeting one of The Winefathers founders, Luca Comello. This is a truly great group of people, and they all worked SO hard to show my friend Dianne Wallace and I a good time—and not just at the winery and the vineyard. Paola Ferraro and Luca took us to the town of Asolo, a.k.a. the "Pearl of the provice of Treviso" too.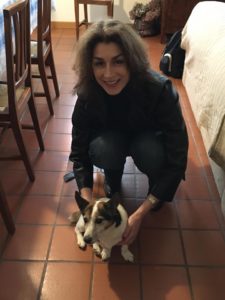 Note that I said probably above. That's because my favorite part of the experience—EVEN BEYOND DRINKING THE BEST PROSECCO I'VE EVER HAD IN MY LIFE—might've actually been eating the meals that Antonella made. (I'm a foodie, guys. And if I have to choose between people and a plate of homemade lasagne—I'll go for the plate pretty much every time.) This woman knows how to use a kitchen, and everything she cooked was grown on their property—even the roast chicken. And the sorpressa they served me was so good that it alone is enough to get me to go back.
Anyway, a few days ago the winery was a distant memory, and then I checked my email and discovered that they'd put my name on a sign in the Monfumo vineyard! Of course, it's an honor. But it's also just so freakin' appropriate, isn't it?
Now if only I could get my name in an orchard that grows lemons for making limoncello…