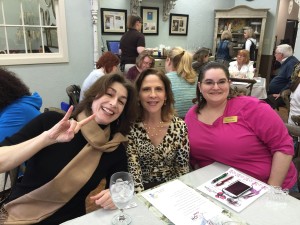 Last month I went to Adventures in Fiction 2015 (that's me doing the hook 'em horns sign!), and it really was an adventure in fiction. If you've never heard of this event, it's a casual gathering of authors and readers that takes place every year in or around Dallas. The organizers are the wonder women collectively known as Fresh Fiction. And if you've never heard of these gals, then, as we say in Texas, you'd best rectify that real quick-like.
Fresh Fiction does more to introduce quality popular fiction to readers than any other organization I know of. They also bring authors and readers together—live and in person. Besides Adventures in Fiction, they host Boas & Tiaras (where a boa AND a tiara are mandatory), Readers & 'ritas (where you can boogie down with "Buccaneers and Billionaires" at a masquerade ball), monthly teas, book clubs, and so much more.
In case you're curious, these are my five favorite things about Adventures in Fiction 2015:
1. fun and friendly readers
Besides its "Lone Star State" moniker, Texas is also called "The Friendship State," and nowhere is this more evident than at Adventures in Fiction. The readers are just the best. For example, Dianne Wallace (the lovely leopard lady in the photo above) brought me banana bread and Prosecco! Fresh Fiction's volunteers, who are all voracious readers, are also terrific. Summer Sharp, the one in pink, reads 200-plus books per year, and she works full time AND, obviously, volunteers. One afternoon with these ladies, and you'll be fast friends. I guaran-darn-tee it.
2. real-life literary adventures
This year the attending authors were asked to write about an adventure that one of their characters might take. It was a blast to hear the submissions. Not only that, it was awesome to see people spontaneously strangle their lunchmates with the murder weapon from Limoncello Yellow—the yellow scarves that I donated as door prizes. It was a killer party!
3. lunch in a Victorian tearoom
This year's event was at the Chocolate Angel Café & Tearoom in Plano. It is the cutest and the coolest little Victorian tearoom you ever saw. And lunch was delightful—an individual-sized broccoli quiche with a salad and fruit cup served with either lemonade or mango tea garnished with fresh orange slices. Simply scrumptious.
4. chocolate freakin' pie
Thanks to Henery Press, a publisher of cozy mysteries and chick lit located in Plano, attendees were also treated to a delicious plate of desserts: a raspberry cupcake and a piece of pie that was like a chocolate cookie on the outside with chocolate molten lava on the inside. Since it was Pi Day, I polished off my piece right after consuming my cupcake. DE-licious.
5. safari shoe porn
This year's theme was a safari, so animal prints were on full display, as were super cute hats (author Kendel Lynn) and (faux fur-lined clothing) (author Phoebe Fox). Not to be vain, but my favorite safari-themed item was the pair of leopard-print shoes that I ordered for the event. Pretty wild, huh?