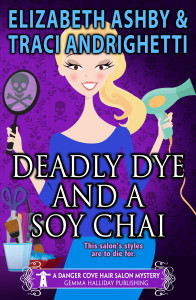 It's release day for DEADLY DYE AND A SOY CHAI, my debut mystery in the Danger Cove Hair Salon series! So, Franki, Veronica, and Glenda (from my Franki Amato mysteries set in New Orleans) went on a lengthy vacation while I went to work creating Cassidi, Gia, and Amy. Because Danger Cove is located in the Pacific Northwest, the hair salon series a little tamer than my NOLA series—but no less outrageous. So, read on if you'd like to learn more about The Clip and Sip, the mystery, and the handbag giveaway!
THE BUSINESS
Although The Clip and Sip opened its doors in 2014, the building has a long and storied history. From 1860 until 1955, three generations of the LaSalle family ran a brothel on the site that serviced local lumberjacks. Following a mysterious fire, the building lay abandoned for four decades until Vincent "Vinnie" Conti purchased it in 1995 as his residence and hair salon, The Yankee Clipper. The Clipper, as Vinnie became known, served the ladies of Danger Cove (it was widely known that he tended to more than just his clients' coiffures) until his unfortunate passing in 2013. A committed bachelor, Vinnie left his entire estate to his niece, Cassidi Lee Conti. Also a hair stylist, Cassidi renamed the business "The Clip and Sip" because she serves a free drink to all her clients. She believes that a beverage on the house will draw the locals in—and go a long way toward removing the bitter taste left in their mouths by the building's unsavory history.
THE BLURB
Native Texan Cassidi Conti was expecting to face some obstacles when she moved to Danger Cove and opened The Clip and Sip, a hair salon that gives away free drinks. What she wasn't counting on was a client dying during a dye job. But when eighty-year-old Margaret Appleby comes in for her biweekly appointment, that's exactly what happens: Margaret drinks her usual soy chai, dozes off under the dryer…and doesn't wake up. Now The Clip and Sip is under suspicion, clients are wary, and Cassidi is on a mission to prove that while her styles may be
killer, her employees are innocent! But as Cassidi wades through the myriad of suspects in the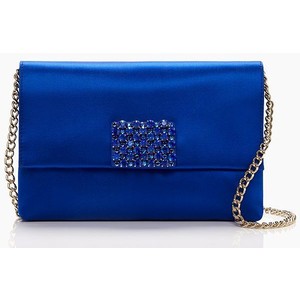 small, costal town, the killer sets his sights straight on everyone's favorite stylist. If Cassidi doesn't watch her back, she may just end up Danger Cove's latest fashionable victim.
THE BAG
To celebrate, I'm giving away this fabulous blue Italian silk satin and leather handbag by Kate Spade. It's called "Evening Belles Alouette," and its picture doesn't do it justice. To enter for a chance to win, visit Gemma Halliday's Facebook page on Tuesday, July 21 for details.