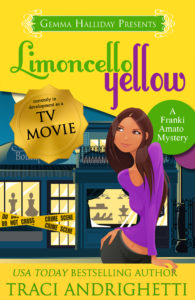 I said this on Facebook, and I'll say it again here: It's WEIRD to listen to someone perform your book! And that's exactly what I did when the terrifically talented voice artist Madeline Mrozek performed the audiobook version of Limoncello Yellow.
And what a performance it is! Madeline said that she felt like Cybil when she was recording the book because of all my crazy characters. And honestly, she's such an amazing voice artist that at times I really thought that she was multiple people.
But don't listen to me, listen to Madeline! An audio sample of Limoncello Yellow is available here. And you can get a free copy by signing up for a free 30-day trial of audible.com here.
Don't want a free trial? No problem! Because I'm giving away three audio copies of Limoncello Yellow to the first requesters!