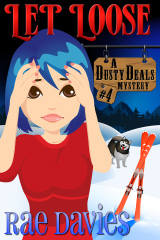 LET LOOSE is on tour with Great Escapes, and I'm so excited to interview author Rae Davies on my blog today.
Let Loose is the 4th novel in the Dusty Deals Mystery series. What's it like to revisit old characters?
I love all of my characters in the Dusty Deals series. It actually isn't even like revisiting since they stay with me all of the time.
Are you anything like your protagonist, Lucy Matthews?
Lucy and I have a ton in common. Many of her adventures and "bull-in-a-china-shop" choices are based on my own. I think humor has to have a lot of truth in it or it won't be funny. We have a lot of differences too though. We are definitely not the same person.
How did you come up with the "loose" theme for your titles?
I really don't remember. I just knew the first book was Loose Screw. It was never anything else in my mind. The Loose theme just followed.
The sled dog race sounds fun! What inspired it?
An actual sled dog race. I used to live where Lucy lives. At the time, the Race to the Sky started right across the road from our house. The microbrew fund-raiser was also something I attended to benefit the Race to the Sky. However, no one ever got murdered over the race… that I know of.
What can you tell us about this sexy Canadian musher (inquiring reader-minds want to know)?
With the sled dog race, it seemed natural to have a Canadian thrown into the mix, and since Lucy had been feeling a bit neglected by her detective boyfriend, this particular Canadian had to be at least a little sexy.
One of my favorite aspects of a mystery is the quirky secondary characters. Just how "rambunctious" are the octogenarians in Let Loose?
Readers will have to read the book to find out, but they are not going to go quietly into any dark night.
On your website you mention that there will be a Dusty Deals Mystery novella entitled Love on the Loose coming soon. Can you give us a teaser?
It's a spin on a classic murder mystery dinner ala Agatha Christie. Lucy and her boyfriend, and her dog, of course, go off for a romantic murder mystery weekend in Seeley Lake, Montana.
It sounds like a thriller. Can't wait!
SYNOPSIS of LET LOOSE
No good deed goes unpunished. The rule has kept Lucy Mathews out of trouble for most of her 29 years. That is until her part-time partner decides Lucy's image needs a little polishing and shoves her in front of every do-good bandwagon she can find.
Luckily for Lucy, her dream charity runs right up to her doorstep in the form of a sexy Canadian musher who's in town to help organize the local sled dog race.
Not so luckily for Lucy, sexy Canadians and detective boyfriends do not a happy mixture make.
One dead race organizer, a group of rambunctious octogenarians, and a team of sled dogs in need of a home later and Lucy is confident this punishment is more than anyone, much less one lone antique store owner, can handle.
ABOUT Rae Davies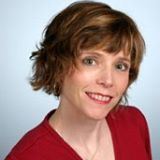 Rae Davies is the pen name of author Lori Devoti.
Lori Devoti worked for three different newspapers in two different states before deciding to stay home with her children and begin writing fiction. Lori has been a finalist for many awards including the Romantic Times Reviewers Choice Award and is a member of Novelists Inc., a prestigious group for professional writers. She lives near Madison, Wisconsin with her husband and children as well as two dogs.
Like Lucy, Rae/Lori loves antiques, Montana and malamutes.
AUTHOR Links
https://www.facebook.com/RaeDaviesAuthor
http://pinterest.com/raedaviesauthor/
http://twitter.com/#!/LoriDevoti
https://www.goodreads.com/author/show/4731525.Rae_Davies
PURCHASE Links
FOLLOW the LET LOOSE Tour
April 27 – Cozy Up With Kathy
April 28 – Community Bookstop
April 29 – Shelley's Book Case
April 30 – Kelly P's Blog – Interview
May 1 – fuonlyknew ~ Laura's ramblins and reviews
May 3 – Darla King Series
May 5 – deal sharing aunt
May 6 – Back Porchervations
May 7 – readalot blog
May 8 – Traci Andrighetti's blog
May 9 – Victoria's Pages of Romance
May 12 – Kaisy Daisy's Corner
May 13 – Mochas, Mysteries and Meows
May 14 – Chloe Gets a Clue