Franki Amato Mysteries
---
2015 Daphne du Maurier Award Finalist
2015 Mystery & Mayhem Award Finalist
Francesca "Franki" Amato is a tough-talking rookie cop in Austin, Texas—until an unfortunate 911 call involving her boyfriend Vince and a German female wrestler convinces her once and for all that she just isn't cut out for a life on the police force. So Franki makes the snap decision to move to New Orleans to work at her friend Veronica's detective agency, Private Chicks, Inc. But Franki's hopes for a more stable life are soon dashed when Private Chicks is hired by the prime suspect in a murder case to find out what really happened to a beautiful young boutique manager who was found strangled to death with a cheap yellow scarf. When she's not investigating, Franki is hoping to seduce handsome bank executive Bradley Hartmann, but most of her time is spent dodging date offers from a string of "good Italian boys"—make that not-so-good aging Italian men—that her meddlesome Sicilian grandma has recruited as marriage candidates. As Mardi Gras approaches and the mystery of the murdered shop girl gets more complicated, Franki must decipher the odd ramblings of a voodoo priestess to solve both the murder and the mystery of her own love life.
Buy Limoncello Yellow:
---
2015 Mystery & Mayhem Award Finalist
For Franki Amato, life in New Orleans is anything but "The Big Easy." When she met handsome bank executive Bradley Hartmann, she knew she'd finally found a man she could trust. But she can't say the same for his sexy new secretary, who is about as trustworthy as Mata Hari and every bit as seductive. Meanwhile, Franki's best friend and employer, Veronica Maggio, has named her the lead investigator in the murder of a gorgeous cosmetics CEO who was found lying dead in the master bedroom of a historic plantation home. Now the pressure is on Franki to figure out what a bottle of pink lip gloss and the legend of a pink diamond have to do with the bizarre killing. The problem is that the plantation is notorious for being haunted, and Franki is less than enthusiastic about the prospect of meeting a ghost. Adding to her stress, her Sicilian grandma is up to her usual meddling antics—this time planning Franki's engagement to Bradley before he's even considered popping the question. As Bradley grows distant and plantation employees begin dropping like Southern belles during a sweltering summer, Franki turns to a psychic with a phobia of ghosts to solve the mysterious murders and her own relationship fears.
Buy Prosecco Pink:
---
2017 Reader's Choice Award Winner!
2017 Silver Falchion Award Finalist
2017 Mystery & Mayhem Award Finalist
Private investigator Franki Amato has just turned thirty, and she feels anything but festive. For starters, she can't have cake because she's given up sweets, and one of her teeth is torturing her. To add insult to birthday injury, she has to investigate a surreal strip club homicide—with her sixtyish ex-stripper landlady. Then her Sicilian grandma crashes the New Orleans non-party and insists that she steal a lemon to land a husband. Unfortunately for Franki, the man she has in mind has his mind somewhere else, and their relationship seems to have soured. Adding to her troubles, she has to figure out what a missing amber pendant and a mysterious amaretto bottle have to do with the murder, not to mention why she's being followed. When a second dancer goes down and a third is threatened, Franki turns to a weird witch to crack the case and cancel a curse before someone blows out her candles for good.
Buy Amaretto Amber:
---
With Christmas around the corner, Franki Amato's got visions of her sugarplum, Bradley Hartmann, dancing in her head. Now that she finally has some time off from her PI job, she's cooking him up a special holiday treat, and it's not figgy pudding. Her Yuletide plans are dashed, however, when her meddlesome Sicilian grandma goes missing and she has to hurry home to Houston to investigate. All the evidence points to foul play. Then there's a bizarre break in the case—one that makes her wonder whether her notorious nonna has been naughty or nice.
Buy Rosolio Red:
---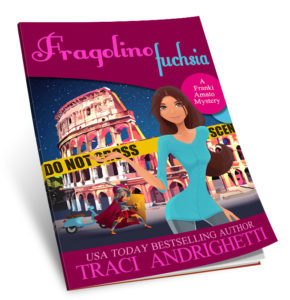 Fragolino Fuchsia (Short Story)
Franki Amato is taking it easy in The Big Easy when her best friend and boss, Veronica Maggio, gives her terrible news. The research assistant for their PI firm has gone missing with his fraternity brother on a spring break trip in Rome! Franki catches a flight to Italy, but not for a Roman holiday. Because evidence suggests the boys have gotten mixed up in something sinister. To crack the case, Franki goes toe to toe with the likes of gladiators, mobsters, and a monk. Meanwhile, the clock is ticking, and hope is running out. Will she find the boys in time? Or is it arrivederci, baby?
Buy Fragolino Fuchsia:
OR, get Fragolino Fuchsia free by signing up for Traci's reader group!
---