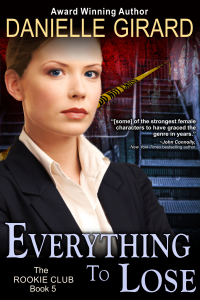 Looking for a great new read? Then check out Danielle Girard's Everything To Lose, the fifth book in The Rookie Club series (Danielle is one of the many incredible authors I met at the Writers' Police Academy).
Here's the synopsis of Everything To Lose, featuring Sex Crimes Inspector Jamie Vail:
When the daughter of San Francisco socialites Gavin and Sondra Borden is brutally assaulted, Jamie Vail makes it her mission to find the attacker. A seasoned Sex Crimes Inspector with the SFPD, work is what Jamie does best. She isn't distracted by the fact that her adopted son and the victim go to the same school.
Jamie can almost set aside that the man caught on tape with the victim is a man she's been wary of for years, her son's biological father. At home, her son is performing poorly in school, becoming more reclusive, and nothing she does can draw him out. Every piece of evidence seems to bring her closer to home.
Desperate to be wrong, Jamie must find Charlotte's attacker before her son lands behind bars, or worse…
BUY LINKS:
Amazon: http://amzn.to/1oYIbvu
Nook: http://bit.ly/1kU1mc7
iTunes: http://bit.ly/1s3t9ba
OTHER BOOKS in The Rookie Club series:
Dead Center (Book 1)
One Clean Shot (Book 2)
Dark Passage (Book 3)
Interference (Book 4)
Visit Danielle Girard's Amazon Author Page to see a complete list of her books. And don't forget to COMMENT for a chance to WIN your ecopy of Everything To Lose!