Danger Cove Hair Salon Mysteries
---

Deadly Dye and a Soy Chai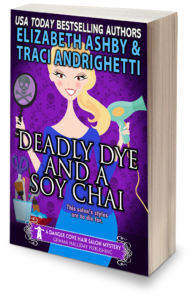 (Danger Cove Hair Salon mysteries, Book 1)
Native Texan Cassidi Conti was expecting to face some obstacles when she moved to Danger Cove and opened The Clip and Sip, a hair salon that gives away free drinks. What she wasn't counting on was a client dying during a dye job. But when eighty-year-old Margaret Appleby comes in for her biweekly appointment, that's exactly what happens: Margaret drinks her usual soy chai, dozes off under the dryer…and doesn't wake up. Now The Clip and Sip is under suspicion, clients are wary, and Cassidi is on a mission to prove that while her styles may be killer, her employees are innocent! But as Cassidi wades through the myriad suspects in the small, costal town, the killer's sights are set straight on everyone's favorite stylist. If Cassidi doesn't watch her back, she may just end up Danger Cove's latest fashionable victim.
Buy Deadly Dye and a Soy Chai:
---

A Poison Manicure and Peach Liqueur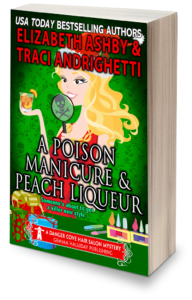 (Danger Cove Hair Salon mysteries, Book 2)
A Christmas-themed mystery coming November 28, 2017!
---