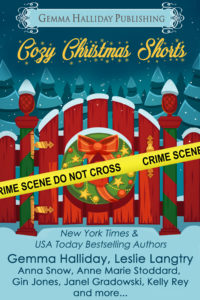 is officially available today for only 99 cents! And because it's the giving season, the twelve of us authors who have contributed to this collection of short stories are donating a portion of the proceeds to Toys for Tots.
So please help us spread the word—and the mystery and magic of Christmas. And do it quick! This collection is available only for a LIMITED TIME.
And be sure to leave a comment for a chance to win an e-copy of Cozy Christmas Shorts. This collection includes eleven holiday-themed cozy mystery short stories by New York Times, USA Today, and National Bestselling authors, and it features some of Gemma Halliday Publishing's most popular cozy mystery series:
Rosolio Red (Franki Amato Mysteries)
by Traci Andrighetti
Christmas, Spies & Dead Guys (Gianna Mancini Mysteries)
by Jennifer Fischetto
Christmas Canapés & Sabotage (Culinary Competition Mysteries)
by Janel Gradowski
Baby It's Cold Outside (Tahoe Tessie Mysteries)
by Gemma Halliday & T. Sue VerSteeg
Christmas Al Dente (Southern Pasta Shop Mysteries)
by Jennifer L. Hart
A (Gingerbread) Diorama of Death (Helen Binney Mysteries)
by Gin Jones
Have Yourself a Deadly Little Christmas (Greatest Hits Mysteries)
by Leslie Langtry
Ornamental Danger (Working Stiff Mysteries)
by Kerri Nelson
Motion for Mistletoe (Jamie Winters Mysteries)
by Kelly Rey
The Blonde Before Christmas (Barb Jackson Mysteries)
by Anna Snow
Sleighed at Castle Rock (Amelia Grace Rock 'n' Roll Mysteries)
by Anne Marie Stoddard
BUON NATALE A TUTTI (MERRY CHRISTMAS TO EVERYONE)!