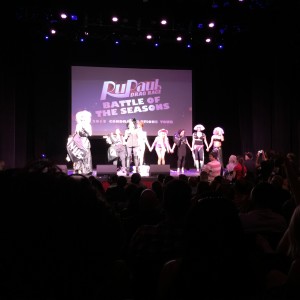 While I was searching for inspiration for Amaretto Amber, the forthcoming novel in the Franki Amato mysteries, a colleague mentioned that a drag show was coming to Austin. Not that this was anything out of the ordinary. I mean, our city motto is "Keep Austin Weird." But thanks to my Catholic upbringing, a drag show wasn't exactly the kind of thing that was on my radar—nor on my husband's, for that matter. After thinking about it for a grand total of 30 seconds, I thought, "What the hell? Why not go?"
And go I did, to RuPaul's Drag Race Battle of the Seasons 2015 'Condragulations' Tour at Austin's historic Paramount Theatre. While I was there, I found out that this tour is based on a TV series called RuPaul's Drag Race, which has been bringing together 14 drag queens to compete for the coveted/corseted title of "America's Drag Superstar" since 2009. And lest you think that this is some kind of joke, last year TV Guide Magazine selected the show as "one of the 20 best TV series picks of the year."
Why? For one thing, this isn't Milton Berle, Flip Wilson, Dustin Hoffman, or etc. in a dress. These queens are SERIOUS about dressing in drag, and their talent, artistry, originality, and passion are very bit as jaw dropping as their outrageous makeup, hair, costumes, and personas. The show is essentially a drag version of America's Next Top Model combined with American Idol, except for when the queens come together onstage to do Snatch Game, their takeoff on the long-running TV game show, Match Game.
Another reason that the show is so appealing is that the queens aren't just gay men dressing as women. For instance, I saw a stand-up comic drag queen named Bianca Del Rio who The New York Times called "The Joan Rivers of Drag," a Goth drag queen named Sharon Needles who sang her way out of a coffin, and a circus drag queen named Ivy "Cirque-de-so-gay" Winters who changed her costume six times and juggled, all while singing the same song. Oh, and later, she blossomed into a beautiful butterfly—on stilts, no less.
Now I still don't know how drag queens will fit into the plot of Amaretto Amber, but rest assured that at least one will be there strutting her stuff. New Orleans is nothing if not colorful, and as an Italian-American chick, I definitely have a flair for the dramatic.
Note: As a closet linguistics nerd, I encourage you to check out RuPaul's Drag Race Dictionary. My favorite entry is "squirrel friends."