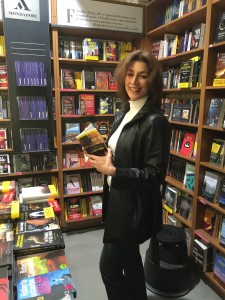 During my recent whirlwind trip to Italy, I went back to my favorite bookstore in Bologna: the Libreria Coop Ambasciatori on Via delle Orefici (and yes, that means "Street of the Orifices"). This bookstore is in the heart of medieval Bologna near the two twelfth-century towers, Garisenda and Asinelli, that are the symbol of this marvelous city.
Why is it my favorite? It's not the awe-inspiring location because, obviously, when you're in a bookstore you don't see what's around it. It's the concept that I love: books on the main floor, and two additional stories that have a restaurant, Italian food products, and more books!
Okay, okay, so the restaurant is an Eataly, which exists here in the U.S. And while in Italy I would never advise eating somewhere you can eat here at home. I mean, HELL-O. But what's not to love about being able to buy a tube of chocolate hazelnut paste while you browse? (And by the way, I squeezed the entire tube of that paste into my mouth when I was waiting for my return flight to Austin at JFK. #noregrets)
Now that I'm back in the States, I've been thinking about that bookstore a lot, and it's not just because I want some more Italian books and chocolate-hazelnut paste. The thing is, while I was standing in the middle of the mystery room, I realized that I had to write a book set in Italy. But where? How? And with whom?
Here are the questions that are tormenting me like I was in Dante's inferno: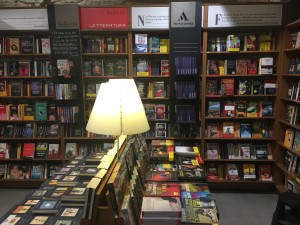 Amaretto Amber is coming out in June, so will Franki Amato go to Italy in the next book? Or will I write a new mystery series set in Italy? If I write a new series, should it be about 1) an Italian teacher who takes students on study abroad trips, 2) an Italian-American woman who inherits a pensione on the island of Capri, or 3) a female Italian police inspector who solves crimes in a famous city? And should it be funny or serious?
Lettori, aiutatemi (Readers, help me)! What do you want to read?