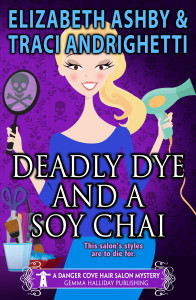 I'm thrilled to announce that I'm part of a new, multi-author series called the DANGER COVE MYSTERIES! And this isn't just any series. Why? Well, there is our co-author, Elizabeth Ashby. Who is she? Go to the DANGER COVE WEBSITE to find out. You can also see the town, find out about its businesses, and meet some of the other inhabitants.
Also, there are 6 series within the DANGER COVE SERIES:
BAKERY mysteries (Jennifer Fischetto)
BED & BREAKFAST mysteries (T. Sue VerSteeg)
COCKTAIL mysteries (Sibel Hodge)
HAIR SALON mysteries (me!)
QUILTING mysteries (Gin Jones)
RENOVATION mysteries (Christina A. Burke)
Here is the blurb for DEADLY DYE AND A SOY CHAI, the first mystery in my hair salon series:
Native Texan Cassidi Conti was expecting to face some obstacles when she moved to Danger Cove and opened The Clip and Sip, a hair salon that gives away free drinks. What she wasn't counting on was a client dying during a dye job. But when eighty-year-old Margaret Appleby comes in for her biweekly appointment, that's exactly what happens: Margaret drinks her usual soy chai, dozes off under the dryer…and doesn't wake up. Now The Clip and Sip is under suspicion, clients are wary, and Cassidi is on a mission to prove that while her styles may be killer, her employees are innocent! But as Cassidi wades through the myriad of suspects in the small, costal town, the killer's sights are set straight on everyone's favorite stylist. If Cassidi doesn't watch her back, she may just end up Danger Cove's latest fashionable victim.
RELEASE SCHEDULE (tentative):
March – Secret of the Painted Lady by Christina A. Burke
April – Murder and Mai Tais by Sibel Hodge
May – Death by Scones by Jennifer Fischetto
June – Four-Patch of Trouble by Gin Jones
July – Deadly Dye and a Soy Chai by me!
August – Killer Closet Case by T. Sue VerSteeg
GIVEAWAY
To celebrate the release of this new series, the Danger Cove Chamber of Commerce is giving away a $25 Amazon gift card. To enter, use the hashtag #dangercovemysteries on Facebook or Twitter during the month of February. Check out the details and sign up for our newsletter here:
http://www.gemmahalliday.com/Danger_Cove/contact/