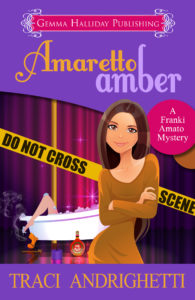 The cover for Amaretto Amber, the third novel in the Franki Amato mysteries, is finally here! And the designer, Lyndsey Lewellen, really outdid herself this time. She captured the crime scene to a T (as in, Traci).
I can't tell you about all the items on the cover because that would ruin the fun of reading about them. What I will say is that the murder takes place on a Bourbon Street strip club stage, and there's a bottle of amaretto next to the bathtub containing the body. But the bottle is only part of the significance of the "amaretto" in the title. So, again, you'll just have to read the book to find out what it all means.
What's not on the cover? The inspiration behind the crime—the Amber Room. King Frederick William I of Prussia gave this room (four panels of amber decorated with gold leaf, jewels, and mosaics) as a gift to Tsar Peter the Great in 1716. During World War II, the Nazis stole the panels from Catherine Palace (near St. Petersburg), and they've never been seen since. The craziest—i.e., creepiest—thing about the Amber Room is that those who hunt for it all seem to die odd or awful deaths (I seriously couldn't make this stuff up).
Anyway, in case you're wondering, Franki doesn't have to travel to Russia to solve the murder in Amaretto Amber, but I do see travel in her future. Whenever possible, I incorporate reader requests into my stories, and it seems that a lot of you want Franki to go to Italy. So look for Franki's Italian adventures either in Campari Crimson or Arancello Orange (I still haven't decided which book is next).
In the meantime, send me your requests. They're always so much fun for me to read!