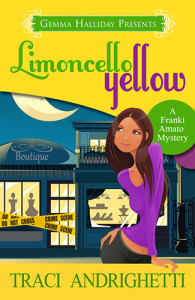 Ever since I first heard about the Daphne du Maurier Award for Excellence in Mystery/Suspense, I've dreamed of having one of my books final in the contest. And somehow that dream came true: Limoncello Yellow is one of five finalists in the "mainstream mystery" category! If you're unfamiliar with this award, it's presented by the Kiss of Death (KOD) chapter of the Romance Writers of America.
Now that I'm a Daphne finalist, I decided that it was time to learn about the contest's namesake. Daphne du Maurier (1907–1981) was the granddaughter of English artist and writer George du Maurier and the daughter of actor-manager Sir Gerald du Maurier. She wrote approximately forty novels, plays, short story collections, and biographies, an achievement that earned her the title of Dame Commander in the Order of the British Empire.
Although du Maurier is often described as a romantic novelist, her work is more consistent with the tradition of the 19th century Gothic novel. Frenchman's Creek is the closest du Maurier came to writing romance—that is, if you consider a cross-dressing heroine and no happy ending a romance. (Yeah, no.) Rebecca, her masterpiece, features some of the same gothic elements as Jane Eyre: the brooding hero and the shadowy first wife. This novel has also been described as "the original Gone Girl" and is considered the precursor to contemporary romantic suspense, which is why KOD named the contest after du Maurier.
If, like me, you haven't read du Maurier's work, you may know her from the movies. Alfred Hitchcock adapted three of her novels into films: Rebecca, Jamaica Inn, and The Birds. I haven't seen the first two, but The Birds has haunted me ever since I watched it as a teenager. To this day, whenever I see a big gathering of birds overhead, I fly the freakin' coop.
Anyway, be sure to check out all the finalists for the Daphne du Maurier Award below (summer reading list?). The winners will be announced on July 23 at the Death by Chocolate party in New York City (what a way to go!), but I couldn't care less about the outcome. Just knowing that Limoncello Yellow is on the finalist list is already a win in my book (pun intended). I'm eternally grateful, KOD.
The DAPHNE DU MAURIER AWARD FOR EXCELLENCE IN MYSTERY/SUSPENSE
–Published Division Finalists for 2015 are:
CATEGORY (SERIES) ROMANTIC MYSTERY/SUSPENSE
Natalie Charles for When No One is Watching
Lena Diaz for Tennessee Takedown
Delores Fossen for Rustling Up Trouble
Karen McCullough for The Detective's Dilemma
Bobbye Terry for The Widow James
HISTORICAL ROMANTIC MYSTERY/SUSPENSE
Amanda DeWees for With This Curse
Anthea Lawson for Mistress of Melody
Jeannie Lin for The Jade Temptress
Brenda Novak for A Matter of Grave Concern
Lauren Willig for The Mark of the Midnight Manzanilla
INSPIRATIONAL ROMANTIC MYSTERY/SUSPENSE
Elizabeth Camden for With Every Breath
Debby Giusti for The Agent's Secret Past
Irene Hannon for Deceived
Katy Lee for Grave Danger
Dani Pettrey for Silenced
PARANORMAL (FANTASY/TIME TRAVEL/FUTURISTIC) ROMANTIC MYSTERY/SUSPENSE
Margo Bond Collins for Legally Undead
Angie Fox for Beverly Hills Demon Slayer
J.T. Geissinger for Darkness Bound
Liah Penn for Pure Death
Rebecca Zanetti for Marked
SINGLE TITLE ROMANTIC MYSTERY/SUSPENSE
Kendra Elliot for Vanished
Melinda Leigh for Hour of Need
Tamsen Schultz for What Echoes Render
Michelle Sharp for Dream Huntress
Leslie Tentler for Fallen
MAINSTREAM MYSTERY/SUSPENSE
Traci Andrighetti for Limoncello Yellow (All right, yeah, I bolded this one.)
Carey Baldwin for Judgment
Kylie Brant for 11
Libby Fischer Hellmann for Nobody's Child
Sandra Parshall for Poisoned Ground